Japanese Comfort Food At Go Go CURRY America
Go Go Curry originates from Kanazawa-city, Ishikawa prefecture, so it is also known as a Kanazawa curry. Our curry style is served with black, thick curry sauce over Koshihikari rice, a premium short grain rice, with very thinly shredded cabbage and Pork Katsu – a crispy, deep fried pork cutlet – all in a stainless plate and is eaten with a fork. In Japan, many people eat curry over rice with a spoon.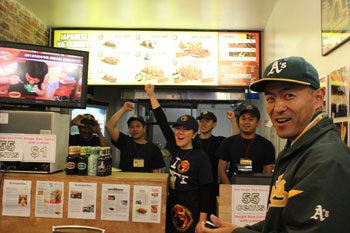 5 means five and is pronounced "GO" in Japanese. We are named after former baseball player Hideki Matsui's jersey number 55 because he is from Kanazawa and he has been our inspiration and is a hero from the region. Some dishes are called Home Run, Grand Slam and World Champion… Guess why! After he retired, we kept moving forward and kept the name to expand nationwide.
Go Go Curry is delicious and freshly made, yet quick; inexpensive, yet high quality. That is why our dishes are very addicting. We make our curry using the 55 process: 55 minutes to stew and 5.5 hours to mature before we serve. That is why all the ingredients are all melded, the color is black and sauce becomes thick like gravy. We use Koshihikari rice, which is well-known as the best match to curry, and is tasty even when it gets cold. All of the toppings are prepared at the store and deep-fried at the time of order.
Our mission is to serve tasty curry worldwide, to enrich the food lifestyle, and to see more smiles when people eat.